Returns & Refunds
Quick Links
What is an online return?
You can now return items you've purchased online conveniently through the click of a button.
This can be done on-the-go through our website, you can select one or more items you wish to return, and they'll be picked up and refunded.
How does it work?
1
Log in with your username and password using the 'Sign In' page.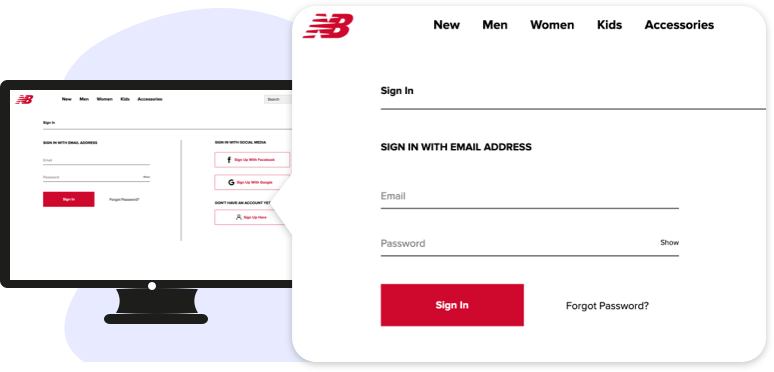 2
Navigate to the 'My Account' page,
followed by the 'Orders' section.
3
Click on the 'Return Items Online' button.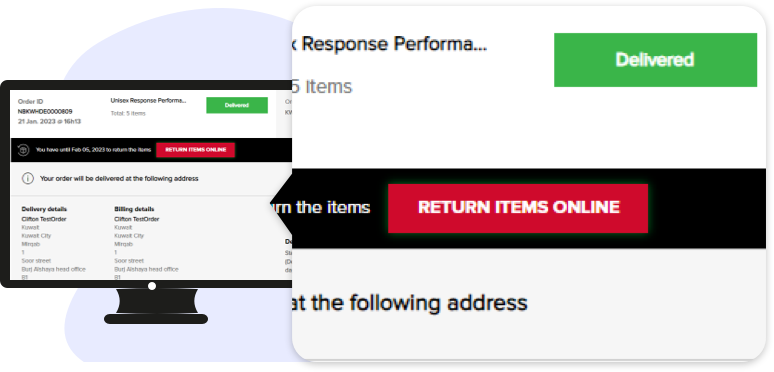 4
Select the items you wish to return, along with the reason & quantity.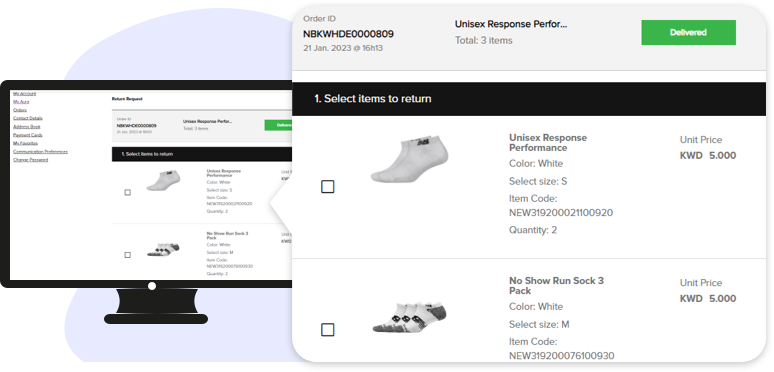 5
Before the arranged pick up, please read the instructions and click on the 'Print Return Label' button to print your shipping label and attach it to the package(s) you are returning to us.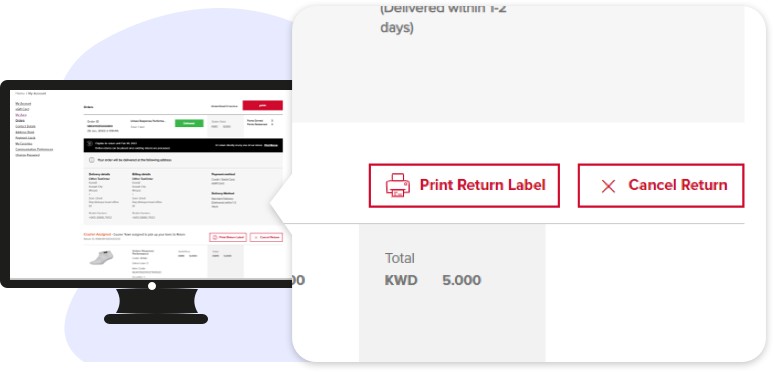 Once you've submitted an online return request, the process is conducted in 3 simple steps.
Pick-up: Up to 2-5 working days to arrange and pick up the item(s) you'd like to return.
Process: Up to 2-5 working days to perform a quality check and issue the refund.
Refund: Your bank or card issuer may take an additional 14 working days to process the refund transaction.

Once we receive the return request and process the item(s), we will issue your refund to your credit card or bank account based on the original method of payment.
Please visit any of our stores for Cash on Delivery (COD) or Click and Collect orders.
If you wish to return furniture items, please contact customer service on  02-24803822
All items are processed, and quality checked upon return, however, we are unable to accept the return request and process a refund in the following cases and will therefore return the product(s) back to your delivery address:

Products damaged by misuse or showing signs of wear, even if they are still under warranty.
Products that have been used, altered, assembled, or installed, unless they are defective.
Underwear, swimwear or other products which are personalised to your order.

Online return requests are only available for online purchases. They are not valid for items purchased in our physical stores.
In cases where you must return faulty, damaged, or incorrect products to us in the same condition as supplied, simply submit an online return request and we will be happy to process a refund.
Request
An online return can only be requested by a registered user.
A registered user can only raise one return request at a time per order.
Guest users cannot place an online return request but can always register or create an account using the same email address to do so.
If you change your mind, you can cancel your online return request before the return window closes.
Online return requests can't be edited, instead please cancel your existing return order and raise a new one.
You'll have 14 days from the delivery date of your order to return your purchased item(s)/order.
Process
Our courier will arrange to pick your item(s) a maximum of 3 times. If the item(s) are not handed over to the courier, the return request will be cancelled.
The item(s) must be returned in their original conditions. If you no longer have the original packaging, you can return your order using any other packaging.
On the Order Details page, you will find a 'Cancel' button, if you find this button greyed out and disabled this means that the item(s) have been processed already.
Policies
All promotional items purchased will be selected automatically for return and consequently must be provided to the courier.
To contact us, click here.
Any items whatsoever which have been provided free-of-charge with the relevant products must also be returned.
You must take reasonable care of any products that you wish to return and not use them. The products must be returned in their original conditions. We will not be responsible for any loss or damage caused to the items during your possession and may reject the request to return, exchange or refund.
In the case of a faulty, damaged or incorrectly supplied product, you shall receive a refund of the purchase price of such product. In any case you must return the faulty, damaged or incorrect products to us as soon as possible in the same condition as supplied.
For more details on our returns policies, please visit our terms & conditions of sale.
Any products purchased through an eGift card will be refunded via an eGift card.
Any orders placed through a combination of payment methods (e.g. eGift + Card) will be refunded via the original payment method:
eGift card payments will be refunded via an eGift card and the remaining balance directly to credit/debit cards.
eGift card purchases & Top ups are non-refundable.
We currently do not offer exchanges. We apologize for any inconvenience this may cause.
Subject to the above exclusions, we will process a refund upon receipt of the returned/exchanged products, excluding any delivery charges you paid for through ordering.
Any refunds given by us in relation to returns/exchanges will be made as follows.
| | | | | |
| --- | --- | --- | --- | --- |
| Payment Method | Credit Card | Debit Card | Cash on Delivery / Fawry | eGift card |
| Refund method | Credit Card | Debit Card | Cash | eGift card |
References to eGift refer to our gift/refund card which may then be used for future purchases online.
Refunds will be done only through the Original Mode of Payment.
If you wish to cancel your order, you may do so by calling our Customer Services department: 02-24803822 during working hours and within one hour of having placed it.
If you paid by credit card or debit card, and you have cancelled in accordance with this clause then we will reverse the authorisation or process a refund transaction (as the case may be) as soon as possible but we are not responsible for how long this will take to be reflected on your account as this is dependent on bank processing procedures. 
Please note that we cannot accept cancellations outside of the specified periods as the order will have been processed and can only then be cancelled through our returns/refunds process as mentioned above.